About Us
Shuswap Ski & Board - Canada's #1 Watersports Pro Shop!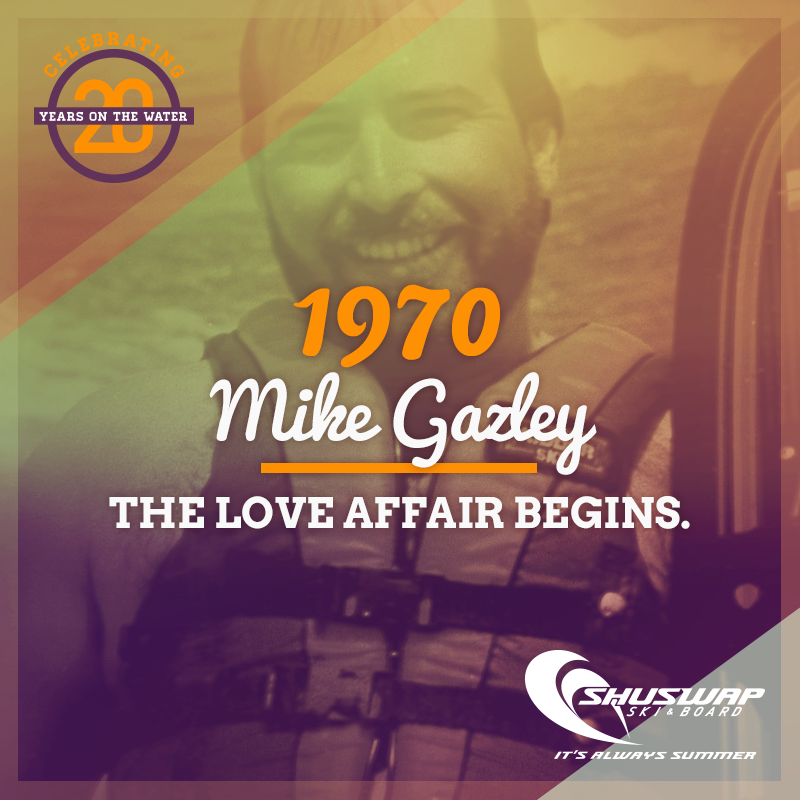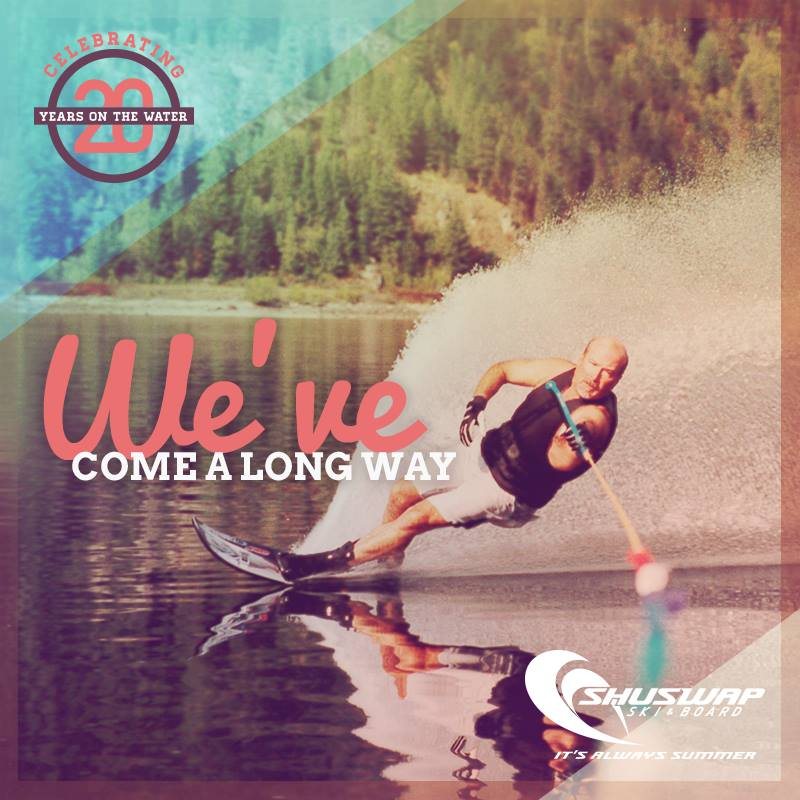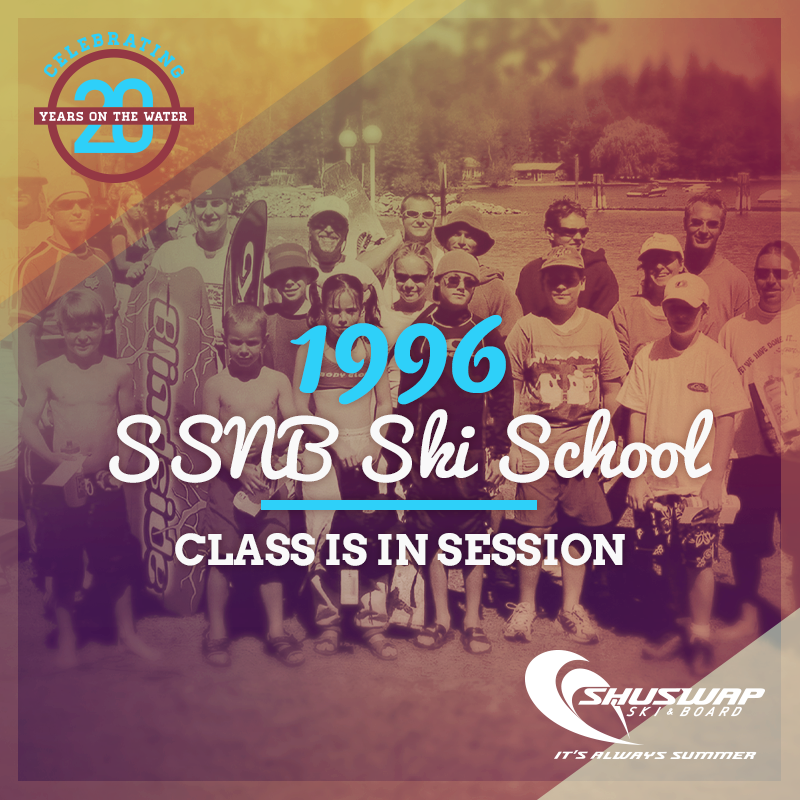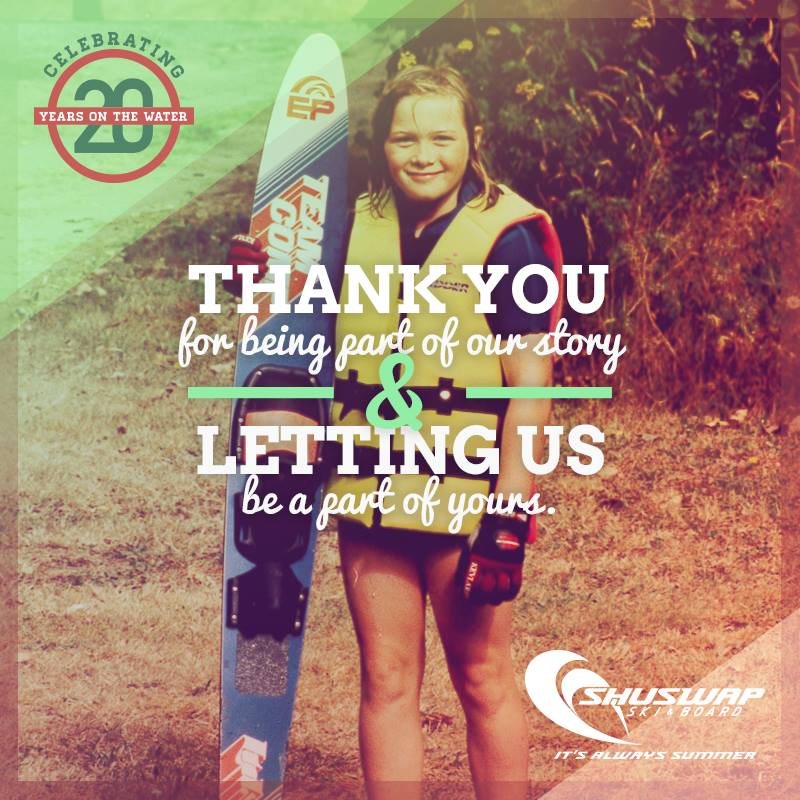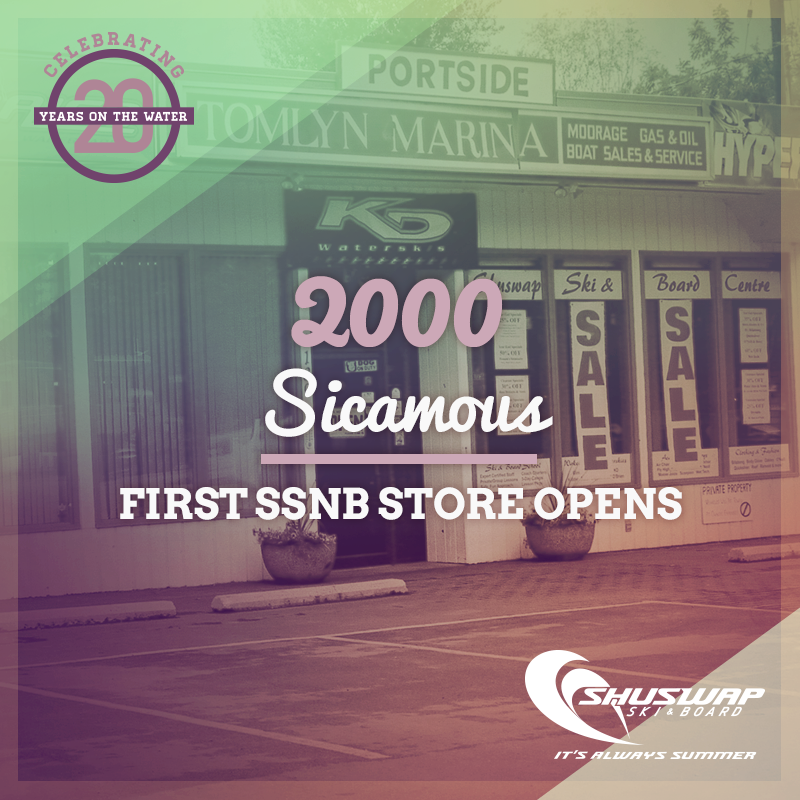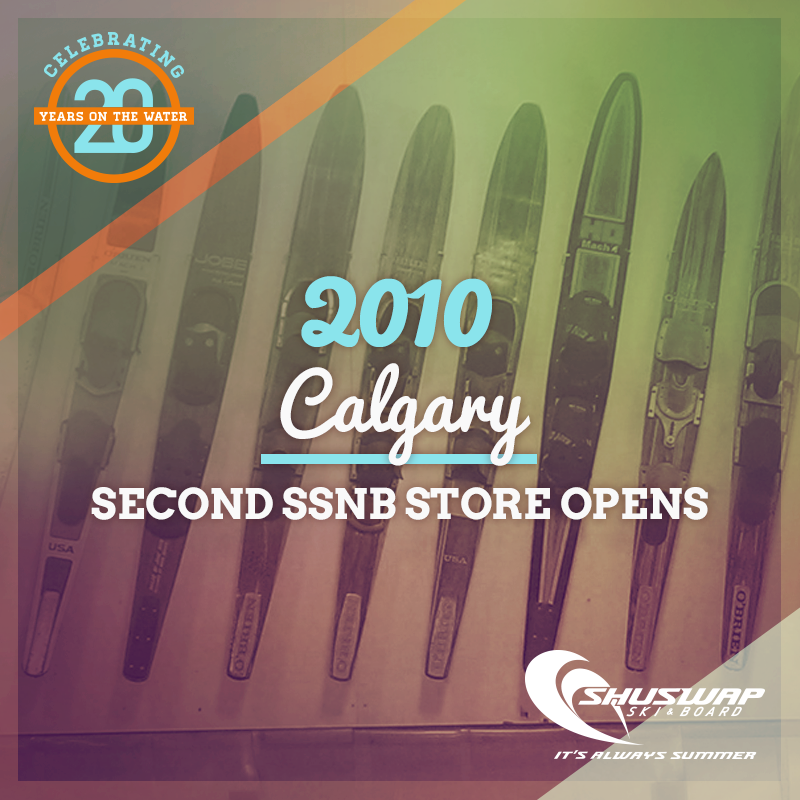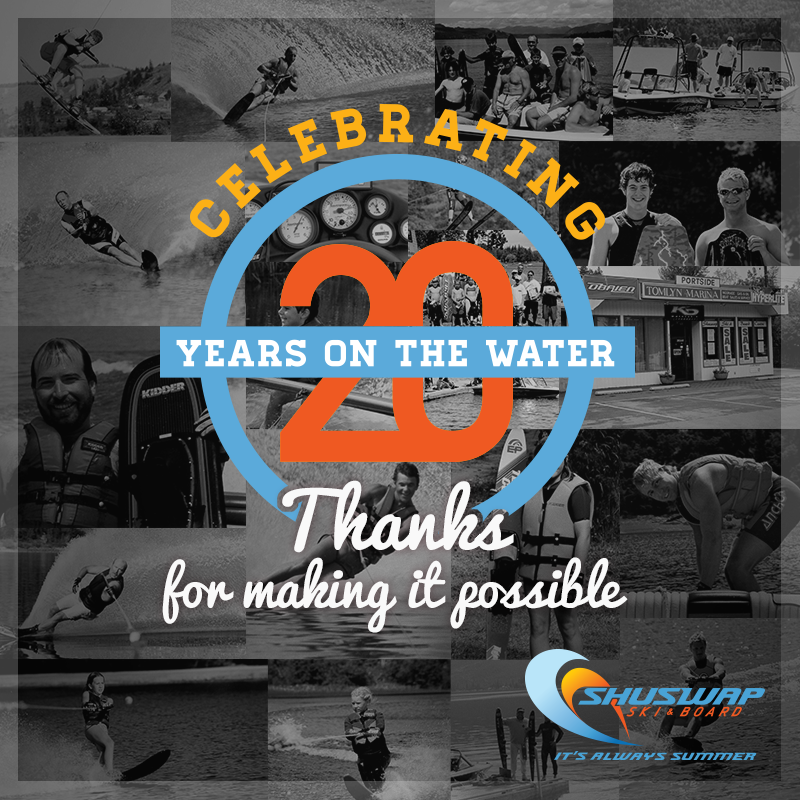 A case could be made that it all began in the summer of 1969 when Laura, a high school pal, invited Mike to their family cabin on Westhawk Lake. Laura's younger brother Billy was a keen slalom skier and after watching Billy carve some sweet turns, sending up a big spray of water, they asked Mike if he'd like to give it a go. Always a lover of water and up for something new, Mike strapped on a pair of wooden Sea Glider skis and, since Billy had only used one ski, he was trying to kick one off that first go. With only occasional opportunities to ski over the next 13 years, a life-long passion began was firmly cemented when a friend invited Mike to join them on a trip to the Mike Suyderhoud Water Ski School, on Lake Shasta. He met the legendary, 5-time World Champion, Mike Suyderhoud and learned to ski a slalom course, trick ski and jump ski (ski-fly), as well as barefoot (or sort of barefoot, using a pair of Converse high tops). Our Mike went on to become a certified coach and worked a season alongside one of his coaching mentors and now, longtime friend, Mike Suyderhoud.
It was at the Suyderhoud Water Ski Centre's pro shop, that Mike was also introduced to waterski sales. While there, he became the go to guy for ski set up, keeping skiers and the pro shop geared up, with the top brands of the time, like Kidder, O'Brien, Connelly, and HO Skis. This was also when he met many other legends of our sports both on and off the water. Industry icons like Denny Kidder, Herb O'Brien, and Pat Connelly, as well as skiing and coaching legends like Bob LaPoint, Sammy Duval, Cory Pecos, Steve Cochran, Ray Stokes, Murray Pigdon and John McCammon.
Although it would be another 13 years before Shuswap Lake Waterski and Wakeboard Centre began in 1996, Mike was very involved in almost all aspects of the sport over that time. He continued to develop his coaching skills and was a key contributor to the Waterskiing and Wakeboarding NCCP Coaching Manual when wakeboarding was added. He was an active volunteer, judging, driving, and announcing at tournaments in Canada, the U.S. and Australia, as well as acting as the Coaching Coordinator and then President of the BC Waterski & Wakeboard Association. He was also a Contributing Editor to Waterski Canada's Ski Nautique magazine, with frequent product and coaching articles, which helped keep him on the forefront of technological and coaching advances.

In 1994, our parent company, WRGS Strategies Inc., was incorporated to encompass Mike and Jacquie's professional services of writing, publishing, coaching and sales. Shuswap Lake Waterski and Wakeboard Centre began operating in 1996, with the opening of the ski and board school in Scotch Creek, based out of Captain's Village Marina in the North Shuswap. In 2000 we moved the school to Sicamous, BC and the original 455 square foot pro shop was opened in the Portside Houseboats building. As a new pro shop, with very little space we focused on HO, O'Brien and KD waterski products, Hyperlite and O'Brien wakeboards, along with Bare and O'Neill wetsuits, with water toys from LA Ski, HO and O'Brien. We did our best to provide expert advice and match people to the right equipment. Our customers responded with great word of mouth and in-store support. Each year we would expand our tiny shop by stealing a few more square feet of showroom from the folks at Portside and we added brands like Liquid Force and CWB wakeboards, Connelly slalom skis and Sky Ski Hydrofoils.
When the Portside building was about to be torn down, in 2004, we move to the current, 302A Main Street location, tripling in size to about 2,000+ sq. ft. Mike recalls looking at the empty store prior to moving in, wondering how he could possibly fill that much space. So, we continued to expand our gear brands, adding Barefoot International Booms, Connelly tubes, Fly High Ballast systems, O'Brien's full line of kneeboards, Monster Tower and Skylon wakeboard towers, board racks, speakers, etc. We also brought in a big surfboard like thing called a Hyperlite Landlock, for wakesurfing (whatever that was supposed to be). During this time our web site also became an increasing source of customer support. Mike loves to tell the story of the email he received from Gabon, West Africa. They wrote asking if we could send them a pair of wake board bindings, they had seen on our web site. He may never have known the country of Gabon existed before this email, but he did manage to get the bindings there. In response to the explosion of a whole new event, called wake surfing, we added more wake surf boards from Inland Surfer, Phase 5, Hyperlite, O'Brien, Liquid Force as well as more choices of ballast bags from Fatsac and Straightline's Sumo Sacs.
In 2007, Andrew Martin, a skinny wakeboarder from Strathmore, AB, came to one of our weeklong training camps. We were a bit short staffed, and he'd been both helpful and super keen during the camp, so we gave him a summer job after the camp was over. Andrew's passion for watersports had him coming back summer after summer for seasonal employment, all the while Andrew continued to further his watersports knowledge. Andrew spent many hours on water and in the books getting his NCCP coaching certification as well as taking multiple Florida trips to industry trade shows and to ski and ride with some of the best coaches and athletes on the planet. Over the years he's taken on water sets with Ryan Dodd, Chad Sharpe, Daniel Watkins, Mike Ferraro, Rusty Malinoski, Aaron Rathy, Drew Ross, Matt Rini, and many others. After a couple of hot Sicamous summers, the student became the teacher and Andrew took a position in the school boat as a coach assisting many customers learn their first wake to wake jumps or get their first 15' off pass through the slalom course. Just about all our customers now know Andrew as one of the nicest and most helpful water sports nuts they've ever met. With years of requests from both customers and suppliers for a Shuswap Ski & Board Alberta location, in February of 2010 Andrew joined us full-time and we opened the doors to our 4,000+ square foot Calgary store, at 521 - 58th Avenue SE.

Around this time a big split occurred at HO Sports, with many of the key people and team, leaving HO and Hyperlite to create the new brands of Radar Skis and Ronix Wakeboards. As our product selection continued to grow, we never wanted the wakeboarding and wakesurfing brands to overshadow our strong slalom skier focus so we also added D3 Skis, Masterline ropes and handles and Reflex hard-shell bindings. In 2012 we faced one of our most difficult decisions since founding the company. The demands of our two growing pro shops, along with a shortage of qualified coaches forced us to close the school portion of the business, as we could no longer offer ski and board lessons to the standard we maintained over the previous 16 years.
Since 1996 our goal has always been to offer Canada's best service and selection, through a knowledgeable, friendly team of watersports lovers. A watersports pro shop, beyond anything else in the country and on par with the finest shops in the U.S. Our customers, suppliers, and athletes, from around the globe, tell us we've done just that! We've continued adding new products that we enjoy ourselves, like stand-up paddle boards, kayaks, wake foils, kites, and wings. We've also added products that you might wonder about, like pickleball gear. Well, when Mike went shopping for his first paddle, he was surprised that there wasn't a pro shop really paying attention to pickleball. One day Andrew posted a photo of the two of us playing Pickleball in our Calgary warehouse on Facebook. We had put an 11-foot SUP board box on its side and were using it as a net to perfect our dinks, lobs and third shot drops. It led to a pickleball brand asking us if we'd like to sell their paddles and now, we're also Calgary's #1 source for pickleball gear.
Of course, businesses are not just about products, they're also about people. Since 1996 we've faced the challenge of finding great people to help us each summer. Luckily, many staff have returned summer after summer and been a huge part of our success. To all the people who have been a part of our success, thank you! There are far too many to mention and, at the risk of missing some of the extra special ones, special thanks to Jacqueline Bapoogi and the Acton family, Josh McLean, Mark Gordon, Graham Boardman, Johnny Schottelius, Leah Rappel, Brett MacDonald, Jeff Bray, Jordann Carr and Anika Dyck along with our amazing suppliers and sales reps.
Thanks most of all to our customers, for so many years of amazing support, your continued feedback helps us build our knowledge base and thanks especially for the thousands of people you refer to us. We believe that is the ultimate compliment you can pay us and that you have firmly established us as Canada's #1 watersports pro shop. We remain dedicated to improving the ways we serve our customers and to do everything we can to ensure their summers are safe, fun-filled, and rich with memory making moments. You continue to give Andrew, Mike and our team, wonderful memories we'll never forget... okay maybe Mike does struggle to remember at times :)
Sincerely
Mike, Andrew & the Shuswap Ski & Board Team