Fin Whispering - Slalom Ski Setup Book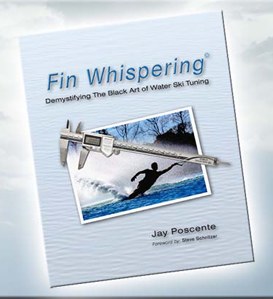 Shuswap Ski & Board
Part number: FINWHISP1
Fin Whispering - Slalom Ski Setup Book
Regular Price: $79.00
Sale Price:

$29.00
Description
Fin Whispering - Demystifying the Black Art of Water Ski Tuning
Original version limited to stock on hand!
The book, Fin Whispering - Demystifying the Black Art of Water Ski Tuning, has been fully endorsed by our founder and slalom ski gooru, Mike Gazley.
Mike says "As Canada's largest retailer of high-end slalom skis, we make a point of setting up our customers' water skis, both during and after the sale, as required to maximize the ski's performace. Now skiers everywhere can have a fantastic, quality resource, in Fin Whispering, to learn more about ski setup. This book is loaded with detailed information that will help all levels of skiers looking to better understand their equipment and their skiing." Of course, Mike is just one of the industries leaders to support the book. You'll find it's endorsed by the entire who's who of slalom skiing, ski designers, coaches and World Record athletes, like our pal Nate Smith.
Fin Whispering starts with the tools and techniques needed to put a proper factory-recommended setup on any adjustable ski. Then, with the help of detailed color illustrations, goes on to explain everything you'll need to know for reasoning your way through any setup issue you may face with a slalom ski. It allows you to begin with basic concepts and set up. Then, if you choose, you can delve into the intricacies known only to the most knowledgable slalom ski wizards.
For more information on this fantastic book, vist their web site.
MID: -16177