HO Stance 110 Slalom Waterski Binding - Full Plate Mount - Front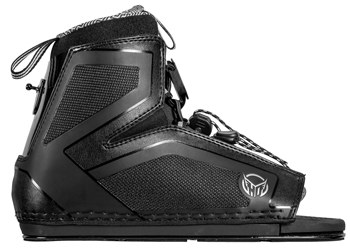 HO Sports
Part number: HOST110FT-4
HO Stance 110 Slalom Waterski Binding - Full Plate Mount - Front
Description
2023 HO Stance 110 Slalom Waterski Binding - Front

The Stance 110 Boot was designed for skiers looking for lateral flexibility, comfort and forgiveness. The Stance 110 was built with a Split-Back Upper Cuff with Lateral Flex Zones, allowing for amazing lateral flexibility. The SBR Closed Cell Foam Liner delivers a snug yet comfy fit. The lightweight Stance 110 (only 1000 grams in the size 7-11 model) includes 15 degrees of forward lean and 175mm tall cuff height. The Dual Lace Zones allow for a personalized fit with independent upper and lower cuff tightening. Made with quality, high strength 6061 Grade Aluminum Plates, no cheap plastic on this crucial ski to boot connection! With universal holes to fit virtually all ski brand insert patterns.

FLEX INDEX 110
Softer composite textile shell for comfort and forgiveness

SPLIT-BACK UPPER CUFF WITH LATERAL FLEX ZONE
Greater lateral flexibility

SBR CLOSED CELL FOAM LINER
Rubber boot feel with an exact but comfortable fit

175MM TALL CUFF HEIGHT
15 DEGREES OF FORWARD LEAN
6MM THICK, ZERO-DROP, CONTOURED FOOTBED
Provides a solid platform for improved balance

1000 GRAM BOOT WEIGHT IN SIZE 7-11
DUAL LACE ZONES
Low drag bungee upper, static lower for precision control

HIGH STRENGTH 6061 GRADE ALUMINUM

Sizes: Small (4 - 8) Standard (7 - 11) XLarge (10 - 14)

Please note: Shuswap Ski & Board will primarily be stocking the HO ski boot collection with adapter plates designed to work on a traditional ski mounting platform. This will allow HO's boot collection to mount on various brands of slalom skis. We also feel that a traditional binding plate is still the safest and most secure way to attach your bindings to your ski. We will only sell the Direct Connect system to people who specifically request it and have signed a waiver stating they are aware of the potential dangers of not checking your hardware regularly.
MID: 21745